Jenny Dwight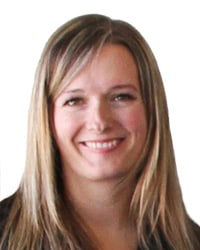 Jenny Dwight
Accounting & Administration
Why I love lawns: I have always had a great appreciation for the aesthetic beauty of a properly maintained lawn. After joining LawnSavers I have learned just how important grass is to our own eco-system. Did you know that one lawn can provide enough oxygen for a family of four?
Favorite tree: I love weeping willow trees. They are so beautiful and whimsical. I like the way they hang down in every direction and you can swing on the strong ones.
Favorite story about a customer: One day last year I spoke to a customer of our that lived close to the office. He called to see if we knew of a company that could remove a deceased frog from his lawn. The customer shared that they had a deep-seated fear of frogs and could not go on the lawn until the dead frog was removed. Hearing the fear in the customers voice I offered to come by on my way home that night to remove it myself. The customer was very grateful.
Greatest accomplishment: Running a happy household with three children and working in a job that I love!
Little known fact: Growing up I used to cut my family's 10 acre lot with a very old Massey Ferguson tractor that had no power steering and an 8′ mower blade!
Hobbies: Equestrian sports, trying new recipes, crafting.