Mosquito Control & Spray Service
How To Get Rid of Mosquitos – Effective Mosquito Control & Spray Treatment Near You
Do you need to deal with an annoying mosquito problem in your Ontario backyard?  Our expert Mosquito Control program will do just that, reducing Mosquitoes and giving you relief.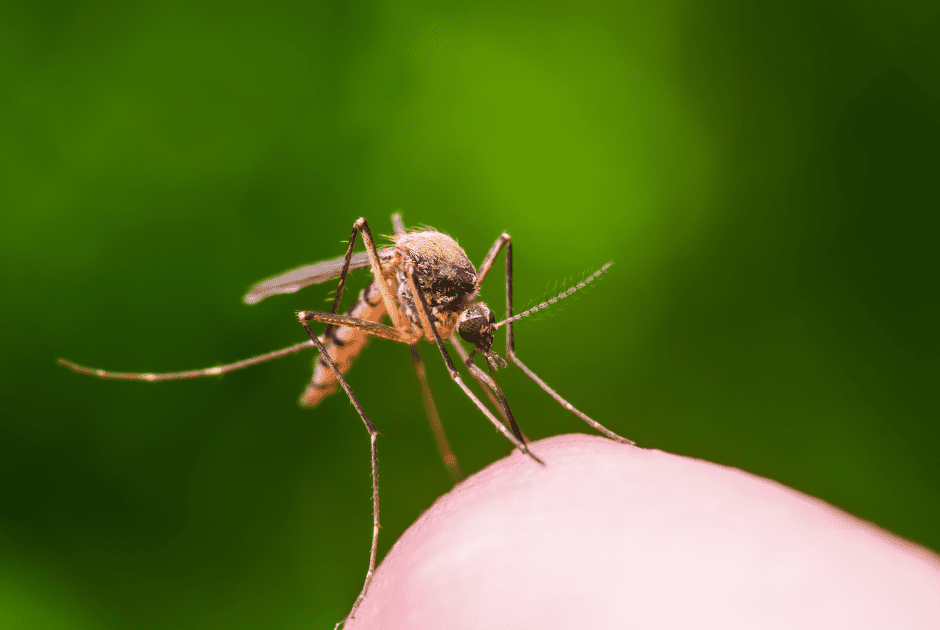 Our special, effective spray options are proven to help with mosquito control, significantly reduce your annoying pests so you can enjoy your backyard, and has great reviews. The mosquito control service options include:
Kid and pet safe options*
Non-toxic natural repellent service option
Synthetic no-odour product option based on  effective natural insecticidal ingredients found in the extract of chrysanthemum plants.
Treatments applied by our licensed mosquito and biting fly and structural exterminators
Both products are registered for use in Canada by Health Canada.
Reduce the Number of Mosquitoes in Your Yard With Our Mosquito Spray Service
Our mosquito spray treatment has been shown to remove the mosquitoes in your yard up to 90% over the course of a comprehensive 5 visit treatment plan.
Our mosquito control service can repel these bugs in your Ontario yard for up to 21 days!
"Even after 3 weeks I still have less mosquitoes than my neighbours" 

How Much Does Effective Backyard Mosquito Control Service Cost?
You can get relief for the entire summer season with our mosquito yard treatment at a special price as low as only $497+tax* Reg.$547+tax (for lot sizes up to 10,000 square feet).  Contact the lawn care experts from LawnSavers for a quick, free quote for our mosquito control prices for your property.
(*prepaid discounted price available with the purchase of your Protector Package lawn care program. Special lawn customer discount of $10 off per visit of mosquito treatment services. Reg price: $547 some conditions apply- ask for details.)
How Does A Mosquito Spray Treatment Work?
Our mosquito spray for backyards normally involves spraying your property and surrounding landscape (shrubbery, trees, long grass, under decks and other hot spots) with our special Mosquito removal formula approximately every 3 weeks (depending on the weather- amount of rainfall we have in Ontario that year).
We use 2 different mosquito control products for your lawn depending on the situation.
Option 1 [most popular]*: This mosquito removal treatment utilizes a synthetic product that is similar to what is derived from the extract of chrysanthemum plants and kills mosquitoes on contact.  The product is commonly what is used for regular flea control in pets and head lice shampoos.
Option 2: Our garlic formula* alternative contains a concentrated 1.25% Garlic oil that mosquitoes are over ten thousand times more sensitive to then humans!  The odour to humans starts to dissipate within 24-48 hours, but the mosquitoes still know!
"The whole first week after your application, I didnt get a single bite, no word of a lie. Before it was at least a bite a minute" P Pawlowsky, Richmond Hill
Why Should I Worry About Mosquitoes in Ontario?
Backyard mosquito control is important to consider because mosquitoes in Ontario, Canada are known to carry the West Nile Virus which is transmitted to animals and humans when they bite you to take your blood.  Ticks are another health issue as they are well-known to carry the bacteria that can cause Lyme Disease.  We can help with those too!
Read more about other known vectors that keep mosquitoes top of mind but are not yet recognized as a serious threat in colder climates like Canada such as Zika Virus, Chikungunya and Dengue. Maclean's magazine published an article in February 2016 stating that there is not enough study done to know if mosquitoes found in Southern Ontario can carry the Zika Virus! It is definitely worth using a mosquito spray for your backyard in Ontario and in Canada to help protect your family and pets. 


Your Nearby Mosquito Spray Treatment to Remove Pests for Your Next Special Event
In addition to our season-long treatment program, our Mosquito Control treatment is also a great service to begin before your special event; Outdoor Weddings, Graduation Parties, Barbecues, Pool Parties etc.!  Starting early is the best defense.
Call LawnSavers today for a fast and FREE quote for our effective mosquito control services near you.
How to Prevent Mosquitos in Your Ontario Yard
LawnSavers is a part of the American Mosquito Control Association.  We Encourage You to Remember the 3 D's to Mosquito Prevention:
DUMP and DRAIN: Eliminate standing water where mosquitoes can breed
DUSK and DAWN:  Stay indoors when mosquitoes are most active in your yard
DEFEND: Prevent mosquito bites by wearing approved insect repellents
Backyard Mosquito Prevention Tips you can use:
Empty birdbaths (mosquito larvae only need 1 cup of water to live)
Check your eaves-troughs and gutters (water standing in gutters out of sight is a perfect breeding ground for mosquitoes
Sandboxes, often have liners that trap water (poke holes in the liner or allow for drainage)
Check your tarps, If they are sagging and collecting water, you have a perfect spot for mosquitoes to multiply in your yard
Kids toys left around the yard very often collect just enough water to breed mosquitoes.
Frisbees and sporting goods are big culprits to catch water.
Planters often come with water saucers underneath them that collect water

Mosquito Spray Treatment FAQ
How long does it take to do the treatment?
Most properties in Ontario take about 10-20 minutes to treat. Larger properties can take longer depending on the amount and density of shrubbery.  We treat starting from the house out towards the yard, spraying under decks, siding, into shrubs and trees and other natural mosquito resting spots.  We avoid flowers to protect the bees.  We inspect the property for other mosquito hangouts and traveling points to make sure we are extra thorough.  The result is a barrier of protection around your yard.
Is every property in Ontario a good candidate to be sprayed for mosquitoes?
Unfortunately no.  Mosquitoes have very specific habits during the day and night, including how they travel to a host for their blood meal.  To provide value in our service, your yard should have a moderate amount of vegetation and dark hiding spaces like decks or trees.  Not every property is a good candidate. Call us and we can evaluate your property over the phone using special satellite imagery.
How does the 100% organic product work?
Uses concentrated garlic oil.  This mosquito treatment tends to be a shorter control period, and is more of a repellent than mosquito killer with great reviews about its success.
Does it have a strong odour?
Garlic Oil has a very strong odour for the first few hours up to a day or two, before disappearing altogether.  The traditional spray has no detectable odour whatsoever.
Do you spray the grass?
No mosquitoes don't tend to congregate in grass that is mowed regularly.  They are attracted to tall grass usually over 10-12″ in length that you would see in an unkempt field. Mosquitoes love damp and shady areas.
Do I need to be home when the mosquito spray treatment is being completed?
Nope, just please leave the pets inside.
How does the Barrier Treatment for mosquitoes work?
Mosquitoes work a lot different than most people think.  They tend to avoid the wind and hides in plants and trees during the day.  During the day they tend to feed on plant nectar. They come out at dusk when the wind dies down looking for a blood meal (females). Mosquitoes search out the scent of people but they tend to hop from place to place (normally at least 4-5 times) before finding an animal or person.  when they land on these leaf or other surfaces, they will come into contact with the product that will destroy them on contact.
Are your lawn care technicians licensed?
Yes, we hold a Ministry of Environment Operators Licence and an additional license classification called "Mosquito/Biting Flies" which governs the use of exterminating adult and larvae form of mosquitoes on land and water.
What types of mosquitoes do we have in Southern Ontario?
There are 2 main genera called 'Aedes' and 'Culex' that live in Ontario.  Both contribute to the almost 3500 species of mosquitoes. Aedes are known to be aggressive day biters, while Culex mainly come out after dusk and bite through the night.
TRIVIA: What is the 'bump' called that is caused by a mosquito bite?
It is called a "wheal".  After a mosquito bites you, they leave a protein under the skin that activates 'histamines' in your body that try to fight it off.  Mosquitoes can easily insert there proboscis several times into your skin before they find a suitable capillary under the skin in which to extract a blood meal.
*The label for Dragnet (Permethrins) states "CAUTION"; this indicates a product that is of low to very low toxicity to humans- Registration under PMRA #24175
The 1.25% Garlic oil registered under PMRA #30680
Here's what Limor said on Google:
"LawnSavers not only takes impeccable care of our lawn…their Mosquito treatment actually works!!! We have a pool and hot tub surrounded by many trees and have constantly suffered from Mosquitos. It's a true pleasure to be able to sit outside in the evening with no worries. Thank you for giving us our backyard back!"
Rating: 5/5 ⭐⭐⭐⭐⭐
We're proud of our 9.1/10 star rating on Homestars! 
And see our testimonials page to read more great Lawnsavers reviews about successful mosquito and pest control treatments.