Protector Package
Protector Lawn Care Package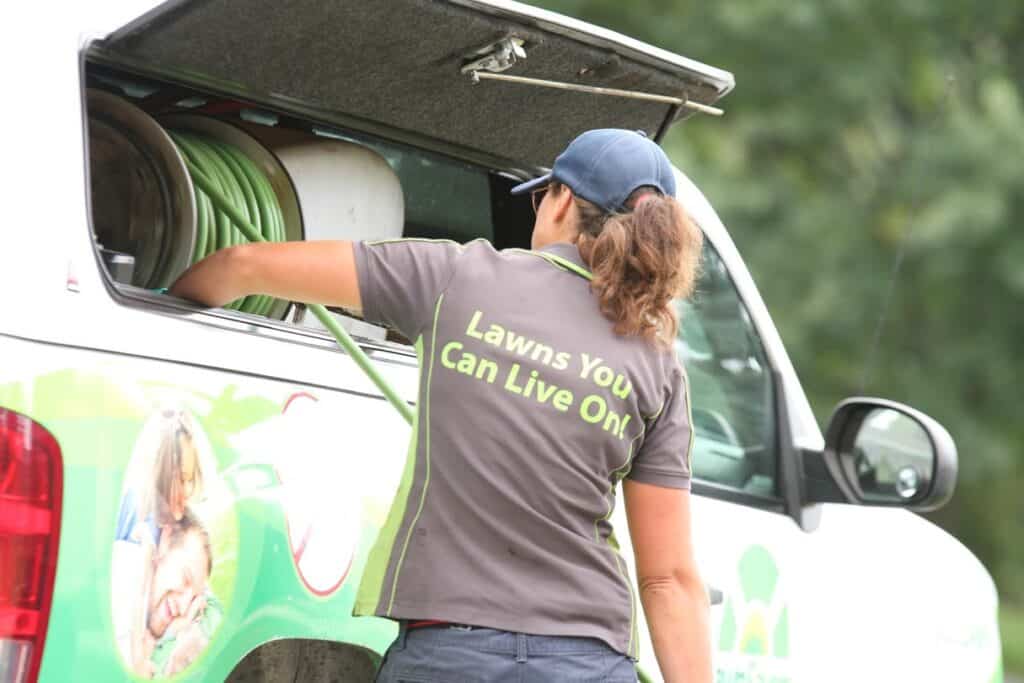 No other company offers you the value contained in this package.
The Protector lawn care package adds the most necessary services up front in your lawn care program at more than 50% SAVINGS off the regular cost! (who wants to be up-sold all season-long at full price?)
BE SURE TO COMPARE APPLES TO APPLES! This program offers unbeatable value that is unmatched by any other competitor program! That's why we list everything!
7 VISIT PROGRAM (with up to 15 services)
Spring Ultra Slow-release Premium Polyon™ Granular Fertilizer
Early Summer Nutrient Boost
+

FREE

Soil & Root INVIGORATOR™
Summer Ultra Slow-release Premium Polyon™ Granular Fertilizer
Fall/Winterizer Premium Granular Fertilizer
Spring Blanket & Fall Targeted Weed Management with FIESTA® (applied spring & Fall when weeds are present to try and help reduce the overall incidence of weeds on your lawn.  Our overall comprehensive program is the best way to ensure a green, thick & healthy lawn with less weeds!)
up to 3 EXTRA targeted applications of FIESTA Weed Management 
Our Exclusive NO-MESS Liquid Aeration application with FULVIC and HUMIC ACID plus SEA KELP to improve soil and allow air, water & nutrients to reach the root zone.

FREE

Soil Conditioner* (prepaid only)  Vermicast and other additives to Improve soil conditions and increase nutrient uptake in poor soils typical of new developments or depleted soils in old, mature neighbourhoods.
Free Chinch Bug Inspection
FREE SEA KELP Strengthening Bio-Stimulant that aids in repairing damage from surface-feeding insects such as chinch bugs & billbugs and increases plant cell wall strength. (additional repair or treatment may be required)
FREE BONUS 500g bag of our CUSTOM Certified SEED to over-seed bare spots up to 400 sq.ft. (prepaid only)
FREE Plant Health Check on each visit 
FREE pH soil testing as required (when a pH problem is suspected)
UNLIMITED FREE Service Calls with one of our Customer Success Advisors to check on issues with your lawn in order to quickly solve any issue.
Protector Lawn Care Package Prices
The Protector Package is our most pro-active package to reduce pests and is the BEST value.  It includes 7 visits & 15 Services from only $397 per visit*!
*(prepaid for up to 1000 sq. ft. of actual front lawn area + tax)
You'll enjoy a no-hassle lawn-care service for a WORRY-FREE summer. We will visit your lawn as many times as necessary to Guarantee a Greener, Thicker, Weed-Resistant lawn.

AND Remember you also get:
Protector Package Customers receive 10% off of Custom OverSeeding for a thicker healthier lawn!
7% off any additional recommended services like our Granular Compost Application, Liquid or Core Aeration  or Grub Management Treatment
7% off Pest Control Services or Tree Health Treatments
Season-long Fertilization and Nutrient Boosts
Up to 5 APPLICATIONS of Weed Management*

FREE

 Soil Conditioner and 

FREE

 SEA KELP Strengthening treatments (with prepayment)
Soil & Root INVIGORATOR to wake up soil microbes
pH soil testing as required (when a pH problem is suspected)
LawnSavers provides "Lawns You Can Live On" TM
* Applied in accordance within IPM guidelines, provincial and local by-laws. Program services may be altered or substituted to comply with provincial regulations and developments in organic & traditional technologies that provide for more effective control. Management is defined as the holistic processes employed to manage the incidence and numbers of weeds & turf damaging pests in order to promote a thicker, healthier and greener lawn.  Total weed, or insect control is neither reasonable nor practical to expect under Ontario Provincial Regulations & laws. Our Organic & Natural alternatives will provide a Thick, Green & Healthy lawn that you will love, Guaranteed, as long as we work together.
Here's what Jenn said on HomeStars:
"A few years ago I called several lawn companies. LawnSavers was the one that had the best customer service and the best option for my needs. I have a lawn that never had grass and it's taken years to get it to where it is today. Once I started using LawnSavers it always looks lush and green. To the point where people compliment me on my grass and I've even had other neighbours sign up for lawn savers because of how great our lawn looks. Technicians are always friendly customer service is always super helpful. We are thrilled with the results"
Rating: 5/5 
Date: 2019-05-27