Why Hire a Professional to Install Your Christmas Lights and Decor?
Are you another aspiring Clark Griswold, planning on spending hours climbing rickety, old ladders and untangling bundles of wire to hang your Christmas lights this year? Why don't you let our dedicated team of Christmas light installation professionals take the work and worry out of the decorating process? We'll ensure your home looks elegant, festive and fantastic!
LED Christmas lights save you money in energy

. According to Toronto Hydro, LEDs use up to 97% less electricity than traditional Christmas lights. For one string of lights, this translates to one dollar providing you 15 hours from incandescent lights versus 15 days from LED lights. Let's assume your Christmas lights are in use for six hours daily, for a total of six weeks. If 10 strings of bulbs are used, the cost of electricity will amount to $264 for incandescent bulbs, but only $1.08 for 10 strings of LEDs!
LED lights last longer than traditional lights.  The life span of LED is up to 50,000 hours compared to 1,200 hours of an incandescent bulb.
LED lights are 5-6x brighter than traditional Christmas lights.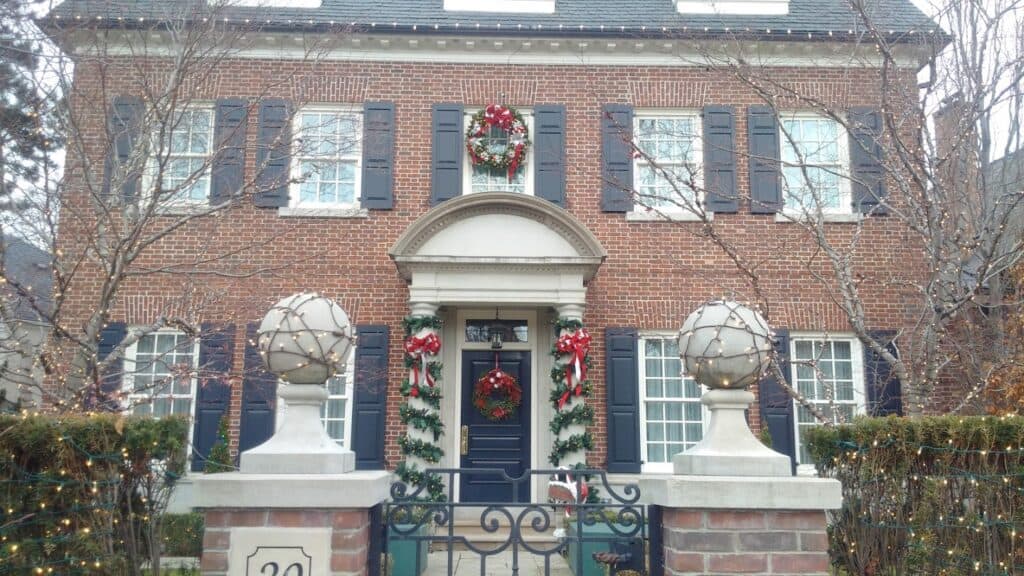 However simple or elaborate your decorating vision may be, our jolly professional design consultant will visit or meet with you at your home and work with you to combine your dream with our unique ideas into reality for your Christmas lights installation. Robust wreaths, thicker, fuller garlands and other festive greenery adorned with pine cones and ribbons will be sure to beautify your home for the holidays!
What does your Christmas Lights Installation Service Include?
All you need to provide is the power for your Christmas light installation, and we'll take care of everything else needed to complete your project. We provide & include:
The design – Check out our Christmas light design gallery
The decorations, timers, extension cords & lights
The installation of the Christmas lights
We come remove the lights once the season is over.  When it comes time to take down your display, we will also safely remove, inventory and store the decorations for you until we come back again next year.
 We guarantee your installation till Christmas. If any parts break on their own, we'll replace them hassle-free!
I'm sold, but how much does your Christmas light installation services cost?
Every home is different, and every homeowner has different tastes.  The minimum job is $1500.00, however an average job in the first year including hanging LED C9 lights on the front of the house, Plump Mixed Blend Garland around the front door, a beautiful lit Wreath and a couple average trees adorned with LED mini-lights, could be somewhere around the $3500.00-$4500.00 price point. This depends on the size of your home or business, slope of roofs, property access and the scope of the projects décor.  Keep in mind that this price is for the first year only and it includes the cost of lights, extension cords, timers, installation, our perfect until Christmas Guarantee, Take-Down and Secure storage.
You own the lights, so NEXT year's installation may be somewhere around 45-55% of that price.  You will also save a load of money on electricity, and be the envy of the neighborhood (but more importantly- your family!)
So what are you waiting for? Your very own Rockefeller Center Christmas Tree is just a phone call away! Contact Christmas Lights Toronto today for a quick estimate and book your Christmas lights decorating appointment.
Tell us, what are your must-haves for Christmas Decorations in the Greater Toronto Area?
LawnSavers Christmas decorators are professional Christmas light installers near you focusing on the Greater Toronto Area and York Region- specifically to a large number of customers in Aurora, King City, Nobleton, Vaughan, Woodbridge, Kleinburg, Newmarket, Bradford, Richmond Hill, Markham, Brampton, North York and Etobicoke (Toronto).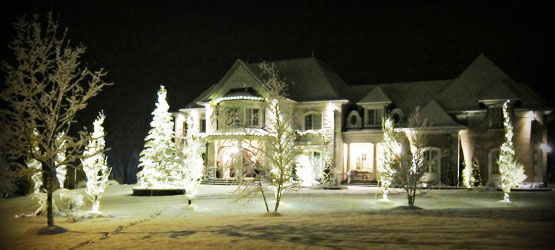 Check out what Oliver had to say about us on Google.
"I discovered LawnSavers Christmas Light Decorators in 2015. After moving into my new house the thought of researching, buying and installing outdoor Christmas lights for our now larger house was a little overwhelming. I called LawnSavers and spoke with a friendly lady who arranged for a designer to visit my house the next day. The design proposal incorporated all my ideas and some additional creative suggestions. I'm thrilled with the quality of the work; custom cut lights at the perfect length for my house (using the colour scheme I requested), no visible extension cords; beautiful lush garland and classic big red bows. I came home from work one day and everything was installed. Then one day in January I came home and it was all gone. I can't explain the joy and relief I have knowing that our home is beautifully decorated for Christmas and I DON'T HAVE TO DO IT! 🙂 Finally, every compliment I recieve from guests to my home at Christmas reinforces what a great decision I made to hire Kyle and his LawnSavers team."
5/5 ⭐⭐⭐⭐⭐
Oliver Woodburn
(Sept 10, 2017)
And check out more of our HomeStars reviews.