Stouffville Lawn Care
LawnSavers has three great lawn care programs that help to keep Stouffville lawns Green & Healthy.
To help your lawn recover from the ravages of climate, like the heat and drought in the Summer of 2018, I recommend our Protector Package for peace of mind coverage and the BEST VALUE! It includes Better than golf course Organic based Fertilization, Fiesta Natural weed management, core aeration, grub treatment, Soil enhancements, Chinch bug management, pH Soil testing and a FREE Kelp Revitalizer.
The best weed control is a well nourished lawn. With ongoing research we have found a new product called Fiesta® that became the cornerstone of our weed management program since 2010 and is expected to give even better results in 2019 with DOUBLE the weed control applications! The biggest advantage is that Fiesta does not require watering to be effective, and it can be applied in a wide range of temperatures on Stouffville lawns. It also is more effective on a wider variety of broad-leaved weeds when part of a comprehensive healthy lawn program. Still, a healthy, thick lawn is your best defense! Products like Beet Juice and Corn Gluten are not very effective and serve only to fertilize your lawn and weeds at best.
Also, adding our Custom over-seeding to our aeration visit will introduce your lawn to much hardier varieties of seed that are bred to withstand higher temperatures, need less water, and resist insects like chinch bug!
I recommend watering once per week for about 1.5-2 hours in each area.
Stouffville has also been experiencing a bumper crop of poison ivy that is invading properties and injuring homeowners unexpectedly. LawnSavers can help! Check out our poison ivy information section and call us today!
Kyle!
Chief Lawn Expert
Call or email us today to find out why LawnSavers has been voted best lawn care service for 15 years running! Thank you Stouffville for making us your favorite lawn care provider!
If you live in Stouffville, you may not be aware that even during a water restriction phase, there are usually times that you can still water your lawn effectively. A healthy lawn only needs 1-1.5 inches of water each week.

LawnSavers takes the work out of this for you: visit our water ban information page.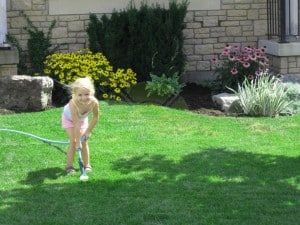 Also, check out our 100% Satisfaction Guarantee that shows we'll work with you to do whatever it takes to make your lawn beautiful.
Here's what Joy from Whitchurch Stouffville said on Homestars:
"My husband is afraid of ladders so it has always been a struggle to get him to decorate our house for Christmas. This year I decided to hire LawnSavers instead and I was extremely happy with the results. Their tech's were here all day hanging up lights on our house and trees. I will be using them again next year."
Rating: 5/5 
Date: 2018-12
Check out our Homestars reviews.