What's in this guide about Fiesta Weed Control:
Fiesta® Lawn Weed Killer is a versatile, patented weed control product the lawn experts at LawnSavers use because it is ideal for lawn care and weed removal: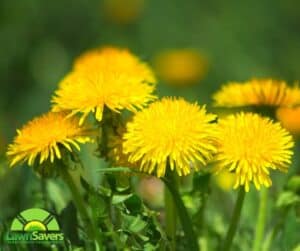 Works quickly delivering visible same-day results.
Reduces and controls broadleaf weeds on your lawn.
An effective alternative to chemical pesticides
Completely odorless weed control product, unlike many other herbicides
Uses a commonly-used mineral as its active ingredient to act as a broadleaf weed killer.
In most cases, you can use your yard in a matter of hours, instead of days like traditional herbicides and weed removers.
Rainfast in less than 3 hours
Reseed turf after 24 hours
Health Canada and The Ontario Ministry of Environment registered it for use as a weed remover in May 2010.
Works in relatively cool weather up to 29 degrees Celsius as long as turf is not drought-stressed.

Is Fiesta Weed Control a Herbicide?
Herbicides are products that kill plants.  A herbicide can be a chemical or something derived from naturally based ingredients. The use of chemical herbicides is banned when it comes to lawn and weed control issues throughout the province of Ontario. There are only a small select amount of naturally derived weed control products that are deemed safe to use and approved for use on your lawns. Fiesta™ Lawn Weed Killer is one of these. 
Fiesta weed control product is a commercial-grade, iron-based herbicide weed remover applied through spray application. It is designed to provide effective weed control by quickly absorbing into several common broadleaf weeds in lawns, killing them while leaving your grass lush and healthy.
The quick absorption of the iron solution in Fiesta creates a toxicity in broadleaf weeds since they intake iron differently than turfgrass, which is why it can be such an effective tool for getting rid of unsightly weeds. Fiesta works as an effective broadleaf herbicide in Canada and can show results in as little as 24-48 hours. 

Is Fiesta Weed Control Safe For People and Pets?
Many people ask us if Fiesta, as an effective weed remover and one of the best weed killers in Ontario, and if it is safe for family members or even pets to be around. Because it is an iron-based solution it is only toxic to the plants that cannot handle the levels of iron in it. In many cases, Iron is also used as a nutrient that gives plants a darker green appearance. This weed control approach is completely safe for people and pets when used according to label directions. After an application has been completed the product will typically be absorbed and dried up within three hours. As with any liquid product, homeowners are advised with a green NOTICE sign to stay off the lawn until dry to ensure the product is absorbed into the plant.  During that time, there is risk of possible light staining of your clothes or paws on your pets if you interact with the product before it has had a chance to dry, after that it is harmless. Your family can enjoy their backyard without fear of other health concerns.

Fiesta Weed Control was invented as an effective broadleaf weed killer for lawns in Canada in Victoria B.C. by a research group of grass experts that specializes in creating alternatives to conventional pesticides. Fiesta was approved in 2010 through the Low Risk Evaluation Stream of Health Canada's Pest Management Regulatory Agency (PMRA)

What is the difference between a herbicide and a pesticide?

 
Pesticide is the all-encompassing term for a control product, whether natural or synthetic, that is used in some way to kill any unwanted pest. There are a number of things that could be considered 'pests' such as insects and rodents, but lawn fungi, bacteria, plants like poison ivy, and weeds are all considered pests as well. The broad classification of pesticides then breaks down into smaller more specific terms depending on the type of pest being dealt with. These include fungicide, insecticide, algaecide, and herbicide. So technically all herbicides are pesticides, however not all pesticides are herbicides, the two terms are not completely interchangeable. 
Herbicides have active ingredients designed for the specific task of killing weeds. They can be made up of a number of different types of chemicals, some more detrimental to people and the environment than others. In Ontario, there are only a very small select amount of herbicide weed removers legal for use on your lawn, one of these being Fiesta™ Lawn Weed Killer, since it has an iron-based solution as opposed to the synthetic chemical-based herbicides like Killex™ containing 2,4-D or Round-Up™ containing Glyphosate.  

Fiesta Weed Control Before & After Results in Toronto
Fiesta herbicide consistently gets great reviews. Here are some of the results we are already seeing (this product is a stronger, more concentrated, and non-diluted form of the same active ingredient in Scott's Weed-b-gon).
LawnSavers gives you double your weed control with our new 'Rapid Kill' technology to ensure better results!  We schedule four applications of our weed control product with each of our programs.  Weed Control is applied to weeds as a blanket spray at first and also on a zone/spot application basis for lawns with fewer weeds.  We blanket apply as required for higher infestations. (Fiesta only works by being applied to an actual weed and does not prevent weeds by applying to grass plants.)
Over time, when combined with our proper fertilizing program we will help give you a healthier, thicker fuller lawn that reduces the overall number of pesky broadleaf weeds in your lawn.   A comprehensive multi-pronged approach including Professional Fertilization, core aeration, certified overseeding, adding compost and insect management will give you the most visible results.
🌱 What is in Fiesta® Turf Weed Killer?
The active ingredient in Fiesta® Lawn Weed Killer is iron – a nutrient our bodies need and derived from the natural environment. The iron is chelated (bound to a special carrier molecule) so it is easy to dissolve in water and get into the weed.
Plants need iron too – it's what makes your lawn (and broccoli and spinach) a deep, rich green. Fiesta though is too much of a good thing. LawnSaver's carefully controlled method of application means only broadleaf weeds are affected giving it great reviews with consumers. The weed's tissues oxidize and die very quickly, turning the lawn-invading pest dark and dry (sometimes called necrosis).
Our technique ensures your grass does not get a dangerous dose, so any residual Fiesta will just add to the colour of your lawn. Plus, since it is a liquid weed control product, you don't have to water it after application to get it to work. We spray, it dries, and you can relax.  It is OK for children and pets to go on the lawn right after it dries.

🌱 What Types of Weeds Does Fiesta® Kill?
The weeds listed below are weeds that are listed by the manufacturer as controlled by Fiesta Weed Control:
Black medic (Medicago lupulina)
Bull thistle (Cirsium vulgare)
Canada thistle (Cirsium arvense)
Common chickweed (Stellaria media)
Creeping buttercup (Ranunculus repens)
Dandelion (Taraxicum officinale)
Dovefoot geranium (Geranium molle)
English daisy (Bellis perennis)
False dandelion (Hypochoeris radicata)
Healall (Prunella vulgaris)
Moss, liverworts, algae and lichens
Persian speedwell (Veronica persica)
Shepherd's-purse (Capsella bursa-pastoris)
Silverweed cinquefoil (Potentilla anserina)
Slender speedwell (Veronica filiformis)
White clover (Trifolium repens)
Wild chamomile (Matricaria chamomilla)
🌱 Where can I buy Fiesta® Weed Control?
Fiesta weed remover is not for sale in retail stores like Canadian Tire or Home Depot.  You can only buy Fiesta Weed Control if you are a lawn expert and have a license.  Our lawn care programs use Fiesta weed control to help you manage weed issues over several seasons in conjunction with proper mowing & watering.
Why Choose Us To Be Your Lawn Care Experts?
See what our customers have to say about us on Google: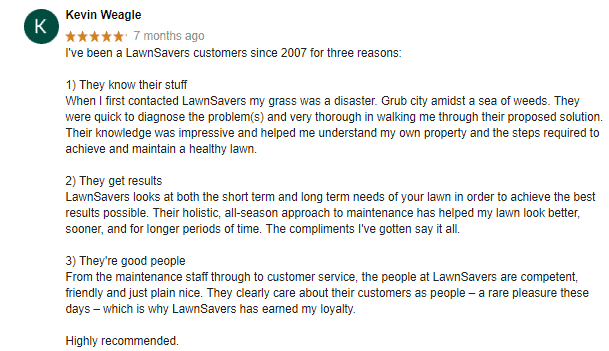 I've been a LawnSavers customers since 2007 for three reasons:
1) They know their stuff.  When I first contacted LawnSavers my grass was a disaster. Grub city amidst a sea of weeds. They were quick to diagnose the problem(s) and very thorough in walking me through their proposed solution. Their knowledge was impressive and helped me understand my own property and the steps required to achieve and maintain a healthy lawn.
2) They get results.  LawnSavers looks at both the short-term and long-term needs of your lawn in order to achieve the best results possible. Their holistic, all-season approach to maintenance has helped my lawn look better, sooner, and for longer periods of time. The compliments I've gotten say it all.
3) They're good people.  From the maintenance staff through to customer service, the people at LawnSavers are competent, friendly, and just plain nice. They clearly care about their customers as people – a rare pleasure these days – which is why LawnSavers has earned my loyalty.
Highly recommended.

Weed Control Near You
If you find yourself wondering "how can I find the best weed control near me?", you've come to the right place! LawnSavers is proud to offer our services to residents of all parts of the GTA. From Milton to Oshawa and as far north as Barrie, with Lawnsavers professional weed control is always nearby.
More Examples
Right now, our technicians are going all-out to get Fiesta applied to our customers' lawns, and not just for dandelions. Fiesta gets results on thistle too and shows promising effects on stubborn creeping weeds like clover and black medic.
Lawns being lawns, we will still see some weeds around, and severely infested lawns will likely take more than one application to get in shape. A healthy lawn requires a proper regimen of professional care including proper fertilizing, core aeration, overseeding and proactive insect management. This will help a lawn reduce weeds naturally. But we are proud to say we have the single best weed management available in Ontario – and our customers are enjoying its benefits today.
The black medic on this lawn responded really well to Fiesta, but as you can see some of the shoots and leaves are unaffected. The colony has so many separate stems and roots that it is essentially impossible to get them all.
It is the same resistance creeping weeds had to the old chemical controls. The treatment has brought the population of black medic down though, which makes managing them with good cultural practices easier.
This is another patch on the same lawn. There is some discolouration, but this patch did not die right away. Because of this stubbornness in creeping weeds, if the lawn has a lot of them it can take more than one application of Fiesta to reduce their number.
Our programs will reduce weeds over the year and season after season, but we do offer a special weed reduction treatment available to customers who have heavily infested lawns or lawns with stubborn weeds.
The best results we are seeing are on thistle and dandelion.
Once Fiesta weed remover has gone to work on your weeds, it is important to keep up your good mowing and watering practices to reduce the chance of new weeds growing.
Dandelion Control Before & After Photos with Fiesta
Customer Reviews
Heidi from Vaughan had to say this on HomeStars:
Lawn Savers did a good job on maintaining my lawn, free of insects and weeds. Though not all weeds were eliminated, given the weather conditions this past summer, my lawn looks pretty good. I will continue to use their services in future years and would recommend them to friends.
Rating: 5/5 
Check out our Homestars reviews.
4.9/5 based on 550+ reviews.