In-Between Visits TIPS: How you can help keep your lawn beautiful and healthy!
In-Between Visits TIPS: How you can help keep your Toronto lawn looking great!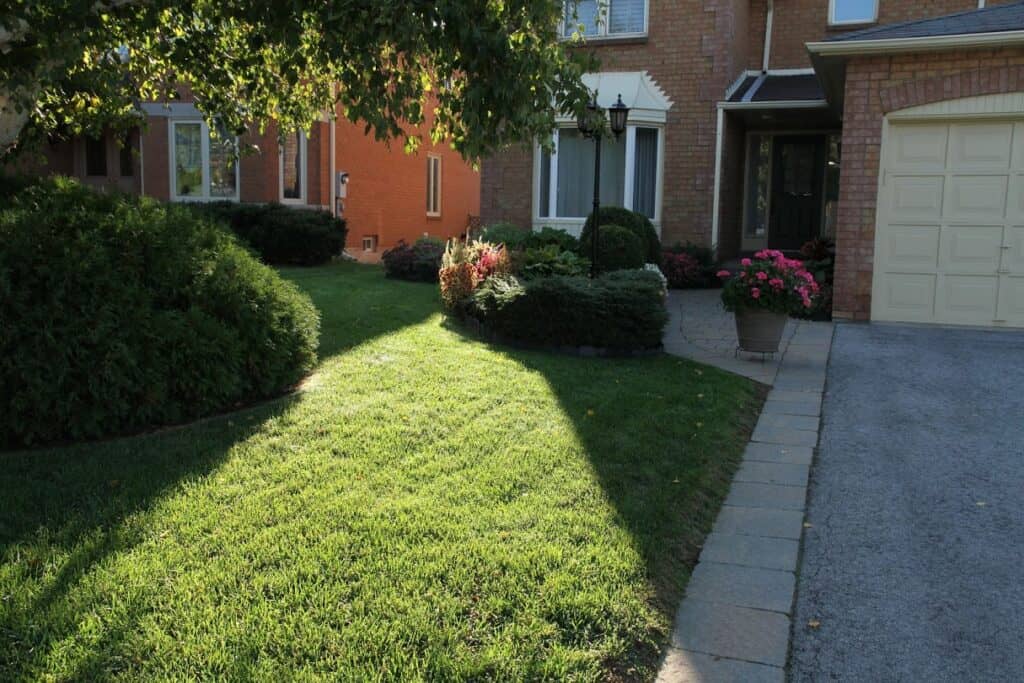 The most important SECRET to a beautiful lawn, next to our LawnSavers Better than Golf Course Premium Nutrient Fertilizers, Regular Aeration Soil Enhancers & OverSeeding, is proper maintenance!  Yes, with increasing regulation surrounding the types of products that can be used on lawns, a homeowner needs to know that if they can actively participate in partnership with LawnSavers, you can still have a Beautiful, Thick, Green & Healthy lawn, but they may have to accept a few very minor imperfections, and the odd weed or two.
The key to proper maintenance and achieving a well-balanced, healthy lawn, is knowing how to Water and Mow your lawn CONSISTENTLY!  This is the secret tip that can earn you a thick and sustainable lawn without the need for chemicals.
Watering your lawn!
Be sure to water your lawn deeply once or twice a week for a total of about 1.5 to 2 hours on each part of your lawn. Watering every day can cause more harm than good as roots are not encouraged to grow more deeply in the soil, and air is prevented from reaching the root zone in persistently soggy soil.  Long, deep watering, less frequently, but consistently each week is the goal.
Watering should ideally be done in the morning before 10 a.m. Evenings are second best before 6 or 7 p.m. NEVER water during the day, it wastes water through evaporation and can stress the lawn. (TIP: Ask us about the next best thing to an in-ground irrigation system)
Once we have applied our special formulation of premium slow-release organic-based granular lawn fertilizer, please water your lawn. This is essential for quicker green up.
During a drought, you need to water consistently or not water at all. Regular watering will prevent the lawn from going into dormancy. However, inconsistent water will further stress your lawn. Don't leave your lawn unwatered for more than 15-20 consecutive days or you will suffer damaging turf loss.
Limit activity on a dry lawn to minimize further damage. Try the FOOTPRINT test: If you step on your lawn and your footprint does not spring back immediately, then your lawn is too dry.
For our Nematode Grub Control application, it is essential to water your lawn deeply both before and after (within the earliest time frame possible) so that the organisms can enter mosit soil, then swim down into the root zone where grub activity takes place. Nematodes require lots of water. Water every couple of days to ensure the viability of the Nematode population.  This allows the Nematodes to 'swim' through the soil seeking out grubs to infect and kill.
Mowing your lawn!
Mow your lawn every 5-7 days. You should never cut more than 1/3 of the grass blade off at any time to avoid shocking the grass plant. Keep your lawn around 2.75"-3" long. This will help crowd out weeds.
For lawns with very few weeds, return clippings to the lawn in order to provide additional nutrients to your soil.  BUT, if you are new to lawn care, and have a lot of weeds, Always use a bag attachment on your mower to reduce the spread of weed seeds until they are brought to a manageable level (especially when weeds are in flower).  See this article to see how short you should cut your grass before winter.
Keep your mower blade sharp. (Sharpen your home mower blade at least twice a year for best results- If you have a large lawn, sharpen more frequently)
Mow only when the grass is dry in order to avoid ripping and tearing grass blades, slipping and falling, and clumping of grass.
Ideally, do not cut your lawn for at least 24 hours after our Fiesta® weed control, or surface insect management is applied in order to maximize effectiveness.
Keep grass longer during the heat of summer to protect the roots and retain moisture. (minimum 3 inches)
Newly Sodded Lawns
If your lawn has just been sodded, this is a crucial time to follow some important rules in order to establish a thick, deep-rooted, and more drought and pest resistant lawn for the future!
The most important thing you can do is water frequently and stay off the lawn! (for newly sodded or seeded lawns)
Water every morning and night for the first two weeks in order to prevent the sod from drying out and to create a moist environment for the sod to start its growth process. Water for at least 1 hour in each area during this time.
Limit traffic on the lawn to reduce a "bumpy feeling" later. The soil underneath will be very soft during this time.   NEVER roll your lawn! Lawn rolling kills lawns. The only rolling that should ever be done is by sod layers immediately after installation of sod, however, their roller is lightweight and meant only to eliminate air pockets on freshly laid sod in order to prevent drying of the sod.
Cut back water after 1-2 weeks to once a day for at least 1 hour in each area.
After 2 weeks cut back watering to every second day but increase the quantity to 1.5-2 hours in each area.
Cut the lawn on your highest mower setting for the first few mowing's and try to let the lawn dry out for a day or two before mowing to reduce "impressions" in the soil from the weight of the lawnmower and foot traffic.
Continue proper watering and mowing as outlined in the procedures for an established lawn above.
Begin fertilizing with LawnSavers 'specially formulated slow release fertilizer for new lawns' after one month!
See What A Happy Client Says About Lawnsavers on Homestars!
I'm very pleased with the look of my lawn since using LawnSavers. I've actually had one of their signs removed from my lawn so the person could get in touch with them and I've also had a neighbor inquire as to what company I was using because the lawn looked so good. I've raised the lawn mover higher as they suggested which has relieved the stress from heat and it also helps with controlling the weeds. The lawn actually looks like a velvet carpet! Most impressive! I use the Basic Package with Grub Control and fall fertilizer and find it works well. LawnSavers is also a courteous and efficient group of people. I'm very pleased with them.
Sue in Richmond Hill
⭐⭐⭐⭐⭐

We're incredibly proud of our 4.7 out of 5 Rating on Homestars!