Award-Winning Lawn Care in Bradford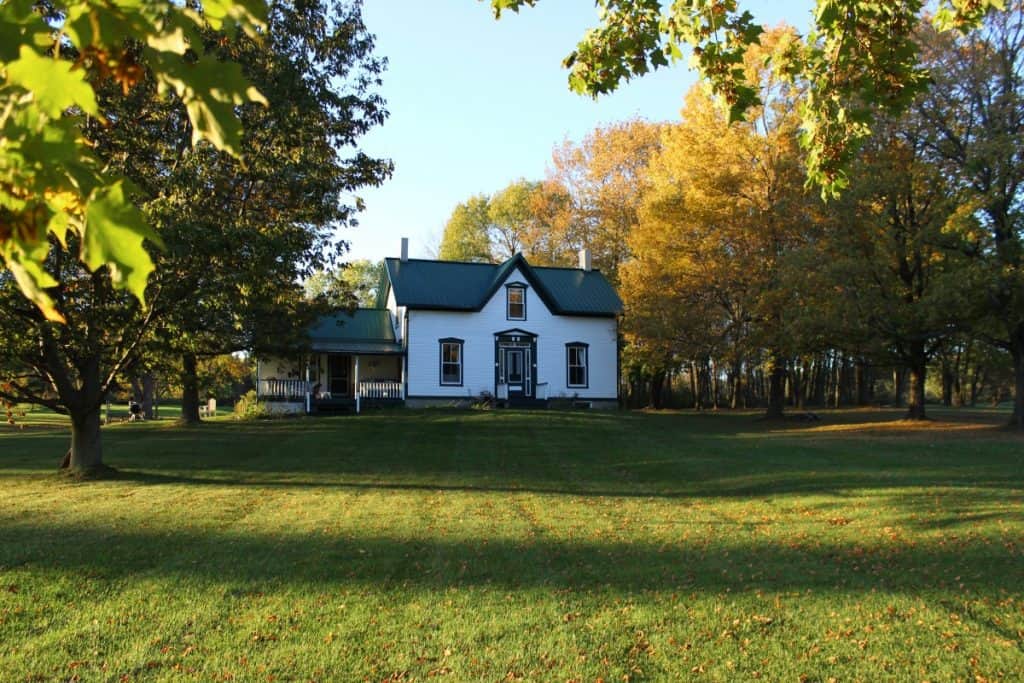 Bradford West Gwillimbury is a bustling community that has seen a lot of growth in the last ten years. Newly built yards and recently added sod need special care to make sure they grow correctly. If you live in the Bradford area and are in need of a top-notch lawn maintenance service near you look no further than LawnSavers. We have many great lawn care programs that can help keep your Bradford lawn green & healthy.
As an award-winning local lawn service company, Lawnsavers have helped many Bradford area residents deal with unhealthy lawn issues that may have surfaced due to new seed not taking properly, as well as weed and grub issues. Ontario's climate is incredibly diverse, each season can vary greatly from the last. Lawnsavers has years of experience dealing with lawn care issues of all sorts. We can help you.
Lawn Care Service Packages Near You in Bradford
We offer a wide range of services to our lawn maintenance customers in the Bradford West Gwillimbury area, but for the most comprehensive care for a healthy lawn, we recommend our Protector Package. This lawn care package will give you maximum coverage and the very BEST VALUE! in a lawn maintenance service. This package includes:
Fiesta Natural weed management,
Added FREE Bonus – Kelp Revitalizer
The Best Weed Control Management In Bradford
Nothing ruins a perfectly manicured lawn more than weeds. They are a blemish that can choke out the beautiful healthy grass. At Lawnsavers, the top lawn care weed control solution near you in Bradford, we understand that the best way to control weeds is a well-nourished lawn.
Many pesticides have been banned by the Ontario government for their harmful environmental effects. At Lawnsavers, we pride ourselves on using chemicals that are safe for your family and are continually testing currently available weed control products to make sure our Bradford lawn care customers are receiving the most effective weed management possible. We have found a new product, Fiesta®, provides the most effective results. It has become our go-to pesticide for our weed management program in Bradford and throughout the GTA.
This weed control product can be applied in a wide range of temperatures, is very effective on a wide variety of broad-leaved weeds, and best of all, it does not require watering to be effective.  It works especially well when it is used as part of a comprehensive healthy lawn program. Products like Sarritor, Beet Juice, and Corn Gluten are not as effective and serve only to fertilize your lawn and weeds at best.
A Healthy, Thick Lawn is Your Best Defense
Lawnsavers is the solution when you are are looking for the best lawn service company near you in Bradford. We will provide you a free estimate for lawn care services, and work with you to make sure your lawn looks beautiful and that your lawn maintenance is minimal. We also have many add-on lawn service features, such as custom over-seeding, which can be added to our aeration visit to your Bradford home and will introduce your lawn to much hardier varieties of seed. These are bred to withstand higher temperatures, need less water, and resist insects like chinch bug!
Whether you live by Bridge St, the 9th Line, near Bradford Highlands Golf Club or anywhere in between Lawnsavers is the best lawn care company in Bradford to give you the lawn you've always wanted. Contact us today if you have any lawn maintenance questions or to set up an initial assessment.
Kyle!
Chief Lawn Expert
Call or email us today to find out why LawnSavers has been voted best lawn care service for 12 years running! Thank you Bradford for making us your favorite lawn care provider!
If you live in Bradford, you may not be aware that even during a water restriction phase, there are usually times that you can still water your lawn effectively. A healthy lawn only needs 1-1.5 inches of water each week.

LawnSavers takes the work out of this for you: visit our GTA water ban information page.
Here's what Terri from Bradford said on Homestars:
"This company has been great, transformed my weed infested yards into a beautiful paradise I can enjoy all year long.
The crews are very professional and very knowledgeable on what I need to keep my lawns looking great."
Rating: 5/5 
Date: 2017-05
Check out our Homestars reviews.