Monthly Lawn & Garden To-Do Checklists
BEST Monthly To-Do Lawn Care Checklists For 2023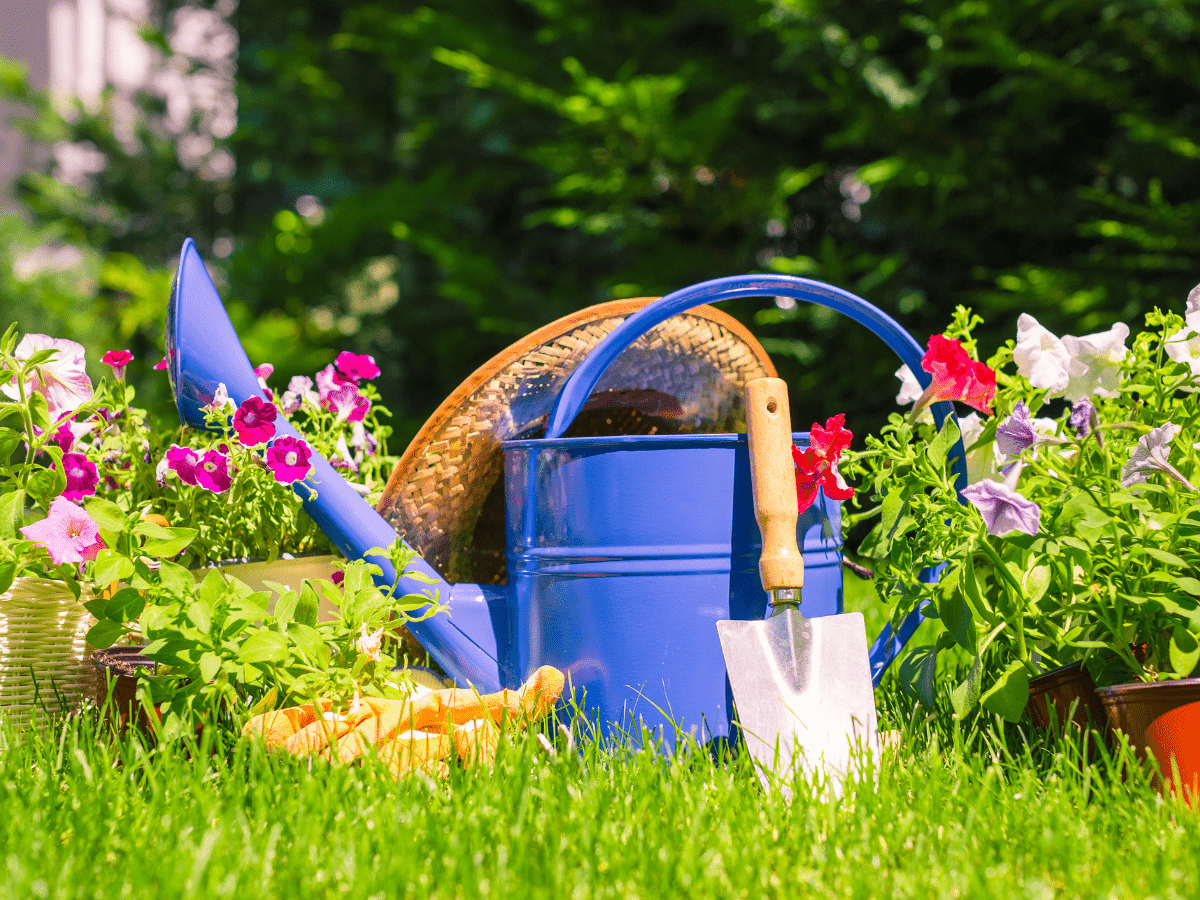 Monthly "Gardening To-Do List" Tips
When it comes to caring for your yard and how to prepare your lawn for spring, summer, or autumn, the checklist of things required changes from month to month. Spring yard clean-up is necessary for April where pruning to prepare for winter is a step for October. For a full lawn care calendar of best practices from the lawn care experts at LawnSavers for each month see below.
APRIL    MAY    JUNE    JULY   AUGUST   SEPTEMBER   OCTOBER
Jump To: Printable Lawn Care Schedule
Spring Lawn Care Tips in Toronto
Spring lawn care in Ontario is of the utmost importance if you want to have a healthy beautiful lawn. Having a spring lawn care calendar and schedule can help ensure that you have a lush green lawn moving into the summer months. It takes a little bit of work but the payoff will be worth it, giving you a lawn you can be proud of.
APRIL:  Lawn Care Steps and Schedule
Start your spring yard clean up checklist by raking sand & salt from curb areas and boulevard with a leaf rake.
Rake up matted areas throughout lawn that were weighed down by snow to reduce snow mould. Spring is the perfect time to dethatch your lawn in Ontario if needed.
Begin to Over-Seed the entire lawn paying special attention to bare areas.
Kill moss and weeds in interlock with Vegetation Control or fill a bottle with 3 parts horticultural vinegar – 1 part dish-washing soap and spray into cracks
Ensure your lawnmower is in top form and tuned up for the first cut in late April (weather permitting) Make sure the blade is professionally sharpened.
Connect and test your sprinkler system in late April/early May.  Ensure all heads are facing their intended target areas and all heads and rotors are functioning properly.  Adjust Controller for proper schedule through wetter spring months.
If you have vole damage – simply rake out the affected areas with a leaf rake
Begin Aeration in late April once excess moisture is out of ground
Dethatch lawn only if severe thatch is found.
---
MAY: Lawn Care Steps and Schedule
Continue your spring lawn maintenance by aerating to loosen up compacted soil and let it breathe.
Spring is the perfect time to fertilize your Ontario lawn with balanced organic-based fertilizer
Sow LawnSavers Certified custom-blended seed in bare spots (due to popular demand, now available in 1 kg bags for DIYers)
Finish Topdressing with LawnSavers Premium Quality enriched finished compost
Scout for Grubs and record where damage is present for proper IPM treatment.
Apply Pre-emergent Crabgrass control where previous infestation has been noted if not already done in April.  (Corn Gluten takes up to 3 years to achieve a high enough protein level for 50-60% percent control)
2nd Fertilizer treatment begins in Late May
Manually remove weed growth whenever possible.

---
Summer Lawn Care Tips in Toronto
There are still steps to be taken when it comes to caring for your lawn in the summer months. Following a summer lawn care calendar and schedule will help protect your lawn during those hot summer days when grass is susceptible to scorching.
JUNE: Lawn Care Steps and Schedule
Monitor for Crabgrass outbreaks
Second Fertilizer Treatment continues
Monitor Trees and shrubs for insect activity
Manually remove weed and crabgrass growth whenever possible.
---

JULY: Lawn Care Steps and Schedule
Apply Chinch bug treatment where chinch bug infestation is found.
Pull young crabgrass plants when crabgrass is actively growing before it sets seed.
Adjust irrigation system to reduce wasted and misdirected water, and also ensure plants are getting proper watering according to hotter weather demands
Manually remove weed and crabgrass growth whenever possible.
---
AUGUST: Lawn Care Steps and Schedule
Apply Late Summer Fertilizer any time now.
Begin Nematode treatments according to weather (growing degree days) in late August and throughout September.  Begin heavy watering to allow Nematodes best chance of survival.
Manually remove weed and crabgrass growth whenever possible.
---
Autumn Lawn Care Tips in Toronto
As we move into the colder months of the year it is important to keep on top of your lawn maintenance and scheduling autumn lawn care treatments as needed. Helping your lawn prepare for winter will ensure that come spring it will come back better and greener than ever.
SEPTEMBER: Lawn Care Steps and Schedule
Apply Fiesta Weed Management as necessary
Assess Grub Activity for Nematode treatment.
Book irrigation system winterizing and blow-out to be done in October or November
Overseed lawns with certified grass seed to introduce hardier varieties
Aerate lawns in Spring or Fall when turf is actively growing and under less stress
manually remove weed and crabgrass growth whenever possible.
Check out these tips for how short to cut your grass before winter starts.

---
OCTOBER: Lawn Care Steps and Schedule
Winterize irrigation systems with compressed air to prevent system damage
Apply Winterizer Fertilizer to prepare lawn for Spring Green up
Rake leaves often to prevent matting down turf.
last mowing of the year usually occurs- Mow at regular height 2.5-3 inches. (do NOT mow lower contrary to popular myth)
Mound roses but do not cut back
cut excess perennial growth back
Deep Root Fertilize trees and shrubs once leaves begin senescence (turning to fall colours) to focus fertilize on root growth only.
Manually remove weed and crabgrass growth whenever possible.
---
NOVEMBER: Lawn Care Steps and Schedule
Take a break from your lawn maintenance checklist and start thinking about Christmas Parties and delighting your guests with a spectacular Christmas Display (but this time, stop thinking about it and just do it!)
Call LawnSavers Christmas and Holiday Decorating specialists to plan your holiday decorating displays.
If you already called us last year, just call & schedule your re-installation and we'll take care of the rest, using commercial LED lights, plump garlands, and large beautiful wreaths.
---
 Printable Lawn Care Schedule:
Our Ontario Lawn Care Schedule can help you organize your lawn's maintenance needs and let you know when to take care of certain tasks like Aerating and Overseeding your lawn or fertilizing your grass.

Contact Lawn Savers For Help With Your Lawn Any Time of Year
For all your lawn care needs, Contact the grass experts near you at LawnSavers, top lawn maintenance company in Toronto and the GTA.

Here's what Ron said on Google:
"Used Lawnsavers for many years now. Very reliable, reasonably priced, responsive to any concerns I might have, and the lawn continues to look terrific! Recommend them highly !"
Rating: 4.6/5 ⭐⭐⭐⭐⭐
Date: 2020-11-12