Granular Compost Topdress (easy & affordable lawn boost)
BEST Granular Compost – it adds a powerful boost to your lawn's health
Our unique Granular Compost is a high-tech, yet low-mess and affordable way to add the value of traditional "soil" topdressing to your lawn without all the fuss! (works better and less money too)
We use pelletized leaf litter compost blended with Kelp, Humic acid and other nutrients normally found in only the finest finished composts.  These nutrients are not present in most traditional fertilizer programs.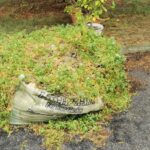 Traditional topdressing with bags or loads of soil delivered to your property is expensive and normally introduces all sorts of weed seeds to your lawn, breaks your back, and doesn't do much to help your existing soil!

Our granulated compost improves the soil quality by feeding and growing the microbe counts contained in the soil. Microbes are the backbone of healthy soil allowing nutrients to be efficiently utilized by the plants roots. By maximizing the effect of those nutrients, the result is healthier plants, denser roots systems and greener, thicker lawns.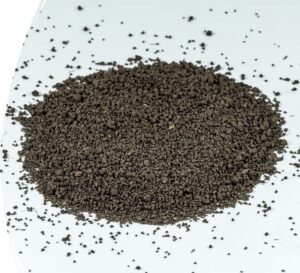 Equally important, these specific nutrients aid in water efficiency and drought tolerance of turfgrass plants.
The process to prepare the compost Guarantees it is absolutely weed-seed-free and contains no insect eggs or larvae.
Healthy lawns treated with our granulated compost break down problem thatch faster reducing insect issues and improving lawn growth.
If you want a healthier lawn that is the greenest on the street, we cant recommend enough, the benefits of composting with LawnSavers Granular Compost!
Compost applications are an incredible value and start as low as $85.00 for up to 1000 sq ft of lawn area.
Check out what this happy customer says about LawnSavers on Google
I signed up for their lawn renovation package as recommended by Matteo during my initial discussion explaining my needs. I liked their honesty on his assessment of my needs and what it will take to get the results I wanted. I like their practice of always notifying me well in advance of their upcoming service visits. David, always meets me prior to beginning the service to explain what they will be doing on that day and provide recommendations for me to follow in order to get the best results. They take the time to properly service the entire lawn instead of rushing through. They are also quick to respond to any email queries. They have already built the trust with me in the first 3 visits they had. I am impressed with their professionalism and the dedication to the service they perform. I am quite confident and glad that I have chosen the right professionals to restore my lawn and cannot wait to see the results of their service.
Siva S.
⭐⭐⭐⭐⭐⭐ 
Check out our 9.1/10 rating on HomeStars!