David (DJ) J.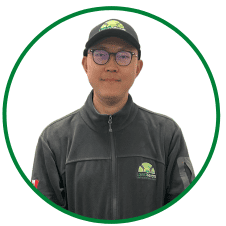 David (DJ) J.
Plant Health Specialist
Your top 3 favorite Podcasts/Books?
Hockey Book: The Game by Ken Dryden
Travel Journal: Balkan Ghost by Robert D. Kaplan
History: The War of the World by Niall Ferguson
What are the core values that drive you?
Kindness, honesty and perseverance.
What do you enjoy doing when you are not working?
Spending time with my dearest wife; chilling out in the park; 
writing sports articles.
Do you have any special skills/ talents?
Saying "thank you" in more than 30 languages – that comes in handy living here in Canada!
Three things still left on your bucket list:
To get fluent in German; to hug a sloth – my spiritual doppelgänger- in its native Costa Rica; to launch my own sports journal.
Personal Motto:
Action speaks louder than words.