Nathan T.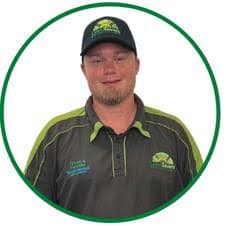 Nathan T.
Plant Health Specialist & Professional Christmas Decorator
Your top 3 favorite Podcasts/Books?
Blue Like Jazz, by Donald Miller
A Walk in the Woods, by Bill Bryson
Wild at Heart, by John Eldredge
What do you like about working at LawnSavers?
I like that the management really tries to make sure technicians know they're valued, and how they work to make sure the technicians have whatever they need to do their job confidently.
What are the core values that drive you?
The main things that drive me are providing for my family – both financially and emotionally – and doing a good job for others (ie. my boss, customers, etc)
What do you enjoy doing when you are not working?
When I'm not working I spend a lot of time with my wife and kids, I like to watch movies, and I like to do adventurous things outdoors (hiking, camping, canoeing, snowboarding, etc)
Any special talents/skills?
I can juggle a bit and I can write a mean essay. Oh, I can also name every country in the world and label them on a blank map.
Three things still left on your bucket list:
1. Skydive
2. Visit my clan's land in Scotland (been to Scotland, just not to the clan land)
3. Be able to maintain a full-time teaching career where I can take the summers off
Personal Motto:
Just because you don't like someone does not mean they don't deserve respect from you as a person.