Said A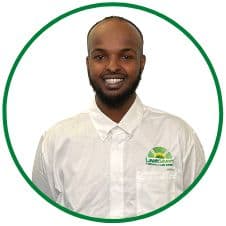 Said A.
Customer Success Advisor
Your top 3 favorite Podcasts/Books?
Favourite book is Brave New World by Aldous Huxley
What do you like about working at LawnSavers?
Helping people, and working alongside the team. Everyone works in unison, so you're never on your own. There is always somebody there to give you a hand if you need one.
What are the core values that drive you?
Faith, Integrity, Discipline, Curiosity
What do you enjoy doing when you are not working?
Working with kids, teenagers by way of my Non-profit Organization called "PlayForever"
Any special talents/skills?
I can throw a football 55-60 yards
Three things still left on your bucket list:
1. Japan, Morocco,
2. Yellowstone National Park
3. Build my own sustainable farm with basic crops
Personal Motto:
Never too high, never too low.