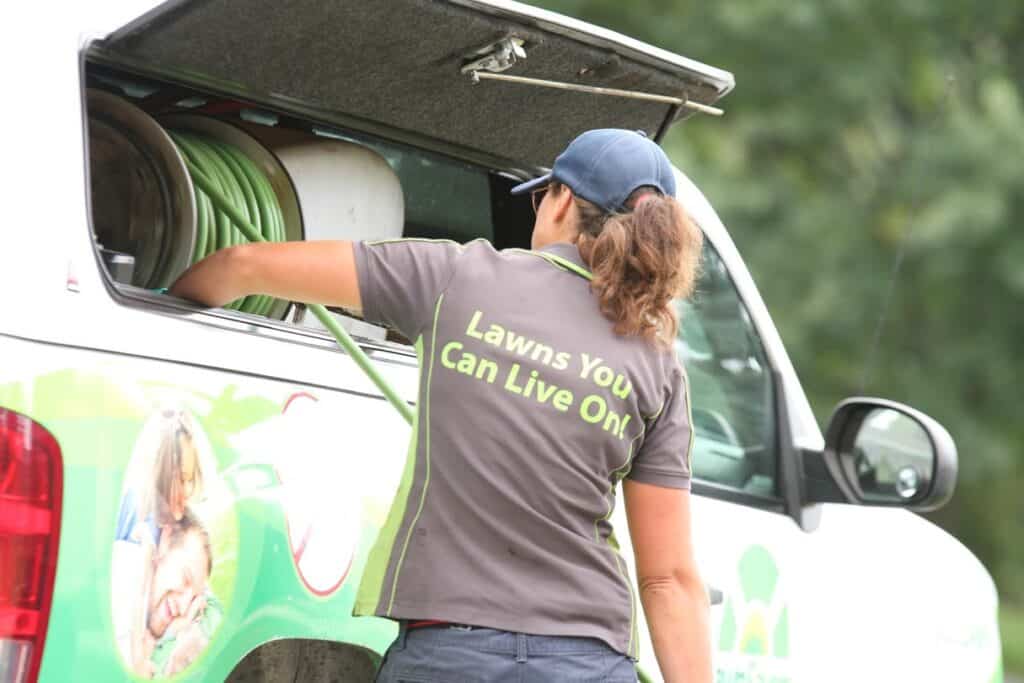 Crazy for us to say this, but we don't think the services LawnSavers provides are for everyone.  And not just because we think we're different, have cooler-looking trucks & well-trained super nice award-winning staff!  It's because when it comes to organic lawn care, it truly is a lawn care partnership if you want results. Read our partnership agreement here!
When you're ready to make a decision about caring for your lawn, making it as healthy as it can possibly be, we want to work with you, but we need our clients to understand that they must be willing to do their part.  What does that mean? To have a healthy lawn and to see it thrive means clients must regularly care for and maintain their lawns in between Lawnsavers scheduled lawn care visits. This means:
Consistent mowing
Consistent watering for the right height
And following our customized care instructions after each visit
LawnSavers does have the elusive secret to success for a healthy, lush lawn and we're happy to share it with you; It all lies in communication with our customers when they sign up with us as a new customer looking for weed control assistance.  In short, we won't make promises that we can't keep!
How Long Does It Take To Get A Healthy Lawn?
Here's the biggest secret to having a beautiful lawn:
ONE SEASON IS NOT ENOUGH!
That's right- no slick sales pitch about how your lawn is going to look incredible when we apply our magic potion or any other big call centre/say anything unrealistic promise to get the sale nonsense. We believe in honesty over making a quick dollar and want to give our clients realistic lawn care expectations.
We'll always be polite, but we will firmly explain that we cannot work miracles in only one season, and hopefully, this will demonstrate to you that we truly do have your best interests at heart (that is why it requires being honest and upfront)
You'll eventually appreciate us telling you that it's impossible to give you a thick green and healthy grass in only one year of treatment. (especially since the pesticide ban)
If you are interested in a quick fix with temporary results, then we are not your lawn maintenance and weed control company. Every single study shows that it takes time to create a healthy lawn that is sustainable and without the use or aid of chemicals.
Lawnsavers have proven for 25 years it's possible to get great results for your lawn, but not if you aren't willing to do your part AND part of that agreement is patience – one season won't do it – the first year is a "set-up" / "establishing a base" the 2nd year is when you'll see healthy green grass results really start to kick in!  The 3rd year is when you have a sustainable lawn that is going to be living up to its full potential!
Lawnsavers – Your Number One Choice For Sustainable Healthy Lawn Maintenance
Contact our office today to set up a free estimate where we will come and evaluate your lawn care needs, discuss your best weed control options, and come up with a plan that will give you the very best lawn you can possibly have. Call today. 1-888-503-5296
Check out what our clients have to say:
"We thought we had lost our lawn after a chinch bug infestation last August. LawnSavers expertly dealt with it and our lawn is looking better than ever in May. The technicians are incredibly professional and knowledgeable. We appreciate the thorough and informative report we get from the technician after every visit. We would highly recommend LawnSavers."
Fiona Anthes
Rating 5/5 ⭐⭐⭐⭐⭐
And read more of our 200+ reviews on Google.