Community Service
Community Service
Giving Back to the Community!
At LawnSavers, we believe it is of paramount importance to support worthy initiatives in our community and especially our country.   Charity starts at home, but our team is also our family.  Together we select several initiatives to contribute not only money, but our time and expertise to help make the world a bit better than we found it.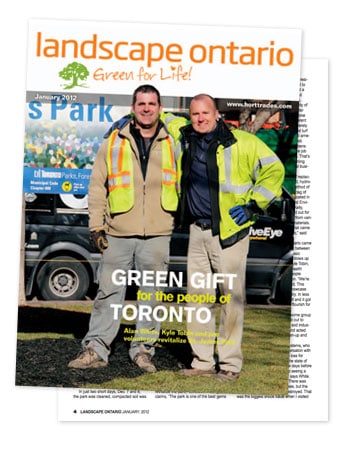 Some of the charities we have contributed to include:
Local school horticultural learning initiatives
National Military Cemetery of the Canadian Forces beautifying initiative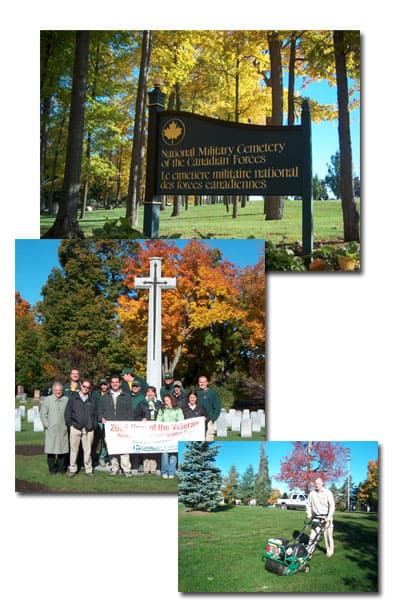 LawnSavers supports the National Military Cemetery of the Canadian Forces
Environmental Leadership
Safety & Our Environment
LawnSavers Plant Health Care is always striving to be at the forefront of Healthy lawn & tree care methods and technologies (and winning). Our Environmental Leadership has established and proven our reputation as 'your' company that delivers the results you expect, while protecting 'our' environment.  It's not just "lip service", It's a professional organic Lawn Service!
Our lawn and trees service experts spend a large amount of time and money every year dedicated to researching and testing viable alternatives to traditional pesticides, and incorporate only those organic and natural options that pass high government and personal health & safety standards into our service menu. Natural doesn't necessarily mean safe.
Most importantly we strongly believe in education, for ourselves, our customers, and the general public.
We have tons of research documents that we have carefully studied and encourage you to take the time to do your own homework too.
If you ever have any questions, please give us a call- we'll be happy to provide you any information we have to help you make the right choices for your family, one you can be comfortable with based on facts.
Currently, LawnSavers has effective options for broad-leaf weed management, White Grub management, Chinch Bug Damage Control, and for the overall promotion of a GREEN & HEALTHY LAWN!
In addition, there are lots of options to manage pest levels in your trees and ornamental shrubs.
Check out our healthy lawn options by clicking here
Latest Product News
2015: Fall trials focus on improved methods of applying our Fiesta® Weed Control have shown a significant increase in results. Weed death has been slowed down to a small degree while allowing less re-growth, resulting in better overall weed control.
2014: Field trials have begun with a new granular, natural product called Phoma Macrostoma. Phoma Macrostoma is a naturally occurring fungus that has been in development for over 7 years.  It is a promising technology for weed control because it can be applied before weeds begin to be a problem or applied after they are already growing.  Essentially, it prevents photosynthesis in the weed plant causing it to die.  Its most exciting benefit is that it does not require watering and can be applied virtually any time during the growing season.  An important additional benefit is that it is showing positive results at controlling hard to kill weed species like Violet, Plantain and Creeping Charlie.
LawnSavers is monitoring the efficacy of this new product and will begin including it in its regular program once registered and allowed for use in Ontario, subject to positive results of the field trials.
In May 2010, Fiesta was registered and classified as a Liquid Weed Control in Ontario.  LawnSavers was one of the first companies to use Fiesta and has developed a wealth of experience. Properly applied, along with a high quality fertilizing program, Fiesta can offer a true viable alternative to traditional chemical weed control products
Please visit the following sites for more information:
Links to information on the safe use of Lawn Care products
On May 16, 2008, Health Canada's Pest Management Regulatory Agency (PMRA) concluded its re-evaluation of the popular herbicide 2,4-dichlorophenoxyacetic acid (2,4-D), finding that the herbicide can be used safely according to label directions for a variety of lawn, turf and agricultural applications.
In issuing the decision, the PMRA stated in its Information Note, "Health Canada also consulted an independent Science Advisory Panel comprised of government and university experts/researchers in toxicology, epidemiology and biology. The Panel agreed with Health Canada's assessment that 2,4-D can be used safely when used according to label directions, with some uses requiring additional protective measures."
Health Canada's decision and other resources pertaining to 2,4-D may be found at: