Gypsy Moth in the Greater Toronto Area

How To Get Rid Of Gypsy Spongy LDD Moths In The Greater Toronto Area
Gypsy moths or Lymantria dispar dispar (LDD) or Spongy Moths, are proving to be a massive problem in Southern Ontario again in 2022.  If left unchecked, they can sometimes cause irreversible damage to your trees leaving you with an even bigger problem of dead trees. At LawnSavers we can help you deal with this very damaging defoliating pest proactively with our LDD Spongy gypsy moth control Tree Spray Program, partnered with our Deep Root Fertilization treatment to help damaged trees recover with strength and vigour.
This treatment is for spongy moth caterpillar stage control only, you will typically require 2 sprays a couple of weeks apart to control the caterpillars after hatching begins.
Will Gypsy Moths Kill A Tree?
Gypsy moths are known as a defoliating pest. This means that they don't kill a tree directly but can still be responsible for its demise by chewing through the foliage of the tree. This invasive insect species will eat the leaves of a tree, their preferred type is Oak trees however they are also well known to attack Maple, Poplar, Willow, and other broadleaf trees as well as damage evergreens. By eating the leaves of the tree, the Gypsy Moth damages the tree's ability to produce new leaves, and to fight off other secondary pests. 
Gypsy Moth have been a regional but growing problem for many decades.  In fact, our owner Kyle Tobin was quoted in this 2012 Toronto Sun article. 
Jennifer Llewellyn, The Ontario Provincial Tree Specialist provides great information about the impending Year of the Gypsy Moth.
Gypsy Moth Rash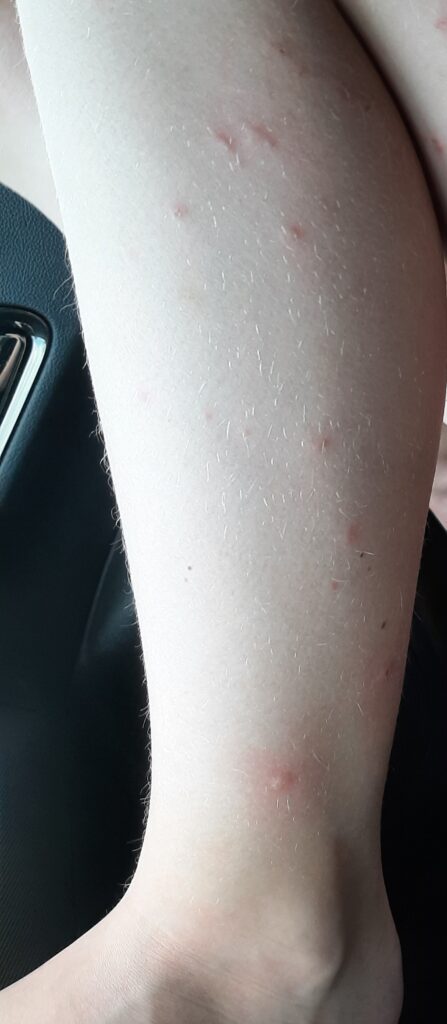 Another side effect of Gypsy Moth overpopulation in your backyard is the potential for these pests to cause a rash if you or a loved one comes into contact with them. The tiny hairs of the gypsy moth whether in caterpillar or moth form can get caught in clothing, outdoor cushion material, and other cloth, rubbing against skin and causing stinging, red bumps, and patchy red skin. More seriously, if a Gypsy Moth is ingested, by a child let's say, they could end up with shortness of breath or difficulty swallowing.
If you end up with Gypsy Moth rash it is important to try to pick the small hairs out of your skin and if necessary take a mild pain reliever such as ibuprofen or acetaminophen to manage any pain the rash could be causing. If you believe your child has ingested a Gypsy Moth and is experiencing any of the above-mentioned symptoms it is important to take them to see a doctor.
You can also learn more about Lymantria Dispar Dispar/Gypsy/Spongy Moths and the damage they cause on the Ontario Provincial website.
How Do You Kill Gypsy Moths?
It is important to deal with Gypsy Moths early on in their life cycle since nothing can be done with them once they have reached the adult moth stage. The Gypsy Moth nest is created by egg masses that attach themselves to the bark of a tree in late winter or early spring. The eggs will grow and turn into larvae, or Gypsy Moth caterpillars, in spring. Once the Gyspy Moth eggs have hatched the caterpillars will inch their way up the bark of the tree into the leafy canopy where they will begin to feast on the foliage, damaging the tree. 

To kill these pests before they can become a major problem it is best to scrape off the Gypsy Moth egg masses from tree trunks and branches before the eggs hatch.  Be sure to dunk them in a pail of soapy or water, or burn them in a fireplace to kill them. If you are dealing with Gypsy Moths in their larvae/caterpillar state that is where LawnSavers can help. We will come and spray the trees that are infested with Gypsy Moths with our tested organic-based spray designed to deal with pests like Lymantria dispar dispar, while being perfectly safe for your trees. 
Your Top-Rated Choice For Gypsy Moth Control In Ontario
If you are dealing with a gypsy moth infestation in your trees don't hesitate to contact the experts here at LawnSavers. We have years of experience dealing with invasive tree and lawn pests helping you to get rid of them and restore your trees and yard to the once lush and beautiful greenery that it once was. Contact us today to get your free estimate appointment. 
Pricing for Gypsy Moth control depends on the height, volume and number of trees that require spray protection.  Pictures are helpful to expedite the process.
Note: As of May 3 2021 gypsy moth caterpillars were beginning to hatch in more southern locales of Southern Ontario so it's time to act before they can destroy the trees in your yard!  We expect that the eggs of Gypsy Moth will hatch before Mid May in 2022 in the Vaughan/King City area.
Treatment Applications for LDD/gypsy moths begin at $159 per treatment. 
Fill out the form to the right, or call or text us to book your services today: 416-707-9994
We will require your address in order to provide a quotation, as well as the inclusion of as many pictures of the front and back yard as you can include.  *(pictures are best taken from vantage points set further back- we just need to get an idea of the number of trees and size)*
Check out what our clients have to say about us:
"A very professional company that provides 'old fashioned' service, (that is sadly disappearing in Canada) They use modern day technology for advising on upcoming and completed work, without being annoying. If you have any issues they are attentive and responsive. The world needs more companies like this where they truly put the customer first." 
Joel Zeger
Rating 5/5 ⭐⭐⭐⭐⭐

We have an average rating of 4.5/5 in our 530+ Homestars reviews.