If you didn't know by now, LawnSavers LOVES Christmas and also Santa Claus parades in the Greater Toronto Area!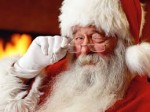 We love Christmas so much that we actually spend all of November and December bringing joy to the cities we service by professionally designing, installing lights and decorating homes and businesses with a flair that just cant be matched!
We also love Christmas Parades and there are some awesome parades out there to attend that some people just don't know about.
Have you ever tried a night time parade?  There is something spectacular about all the lights and  music that add to the Christmas Magic.  (One of my favorites is the Aurora Santa Claus Parade)
LawnSavers Professional Christmas Decorating and Lighting makes this easy for you.  We have a full list of 16 parades in Toronto and the Surrounding towns and cities for you right here on our Christmas Decorating Website.
Click here for the full list: PARADE LIST for GTA & BARRIE   Try walking around Schomberg, King City or Kleinburg one evening- makes for a great way to take in the Christmas Spirit!
Check it out- And if you need any help with your Christmas decor and lighting, Give us a call at: 905-707-9994 or 416-707-9994  We'd love to help!