We had a surprising call the other day. A potential customer called our sales and service line for a quote on some lawn & tree care. This is common, and the plant health specialist who took the call was happy to provide not only the quote but also professional advice and information on how the treatments work and what the customer could expect.
Then the caller asked a question that stunned our specialist. He asked how he could be sure we'd actually do the service, and not just bill him for nothing.
It's terrible that the caller has had such bad experiences with other businesses that he felt he needed this additional level of a guarantee, not just that the work would be done properly and professionally, but that it would be done AT ALL.
It goes to show there is more to choosing a lawn care company, or any contractor, than just price.  First they should be a long standing member of Landscape Ontario, Have good & believable reviews online, a member of the Better Business Bureau, and at the very least, have a permanent business location for their company, $2,000,000 minimum in Liability Insurance, and protect their workers with the Workplace Safety and Insurance Board WSIB.
In addition, any respectable contractor will guarantee their work. Not all guarantees are the same, so it is worth getting it in writing, reading and understanding it.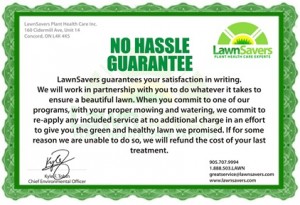 Take LawnSavers' guarantee as an example. It explicitly lays out what we promise to do and the recourse our clients have if we are unable to complete our promises. We include this with every quote and letter confirming services, along with a clear list of our terms of service.  LawnSavers is at the forefront of Organic Lawn Care with over 22 years of Experience (well ahead of the pack)!
LawnSavers' includes a money-back guarantee. Some other companies offer it, but you shouldn't assume it. Some companies state "all sales final, no refunds" and only offer credit back, which can keep you tied to a company you aren't satisfied with.
Your guarantee may also require some basic things from you, such as following after care instructions, proper mowing and watering, or making sure your account is up to date. A personal trainer wouldn't back guaranteed weight loss if their client went off the required diet and exercise, and a vaccuum cleaner salesman isn't going to replace a malfunctioning unit that hasn't been paid for.
Ultimately, companies like LawnSavers guarantee their work so you can be confident in your decision, knowing you have chosen the best company to do the job correctly and professionally so that you don't have to worry about a thing!
By the way:
LawnSavers has an A+rating on the BBB
We have won Best Lawn Care Service from the Readers Choice in Metroland newspapers for the past 11 years
We have won Best Reviewed Lawn Company on Homestars.com for '09 & '11
We carry $5,000,000 in liability Insurance
We are covered by WSIB
Our President is long-standing Vice-Chair of the Lawn Care Sector Group at Landscape Ontario, IPM symposium Committee and a founding member of Project Evergreen Canada
We are proud Members of the National Association of Land Care Professionals (NALP)
We simply won't stop until you are happy, Our success depends on your happiness!