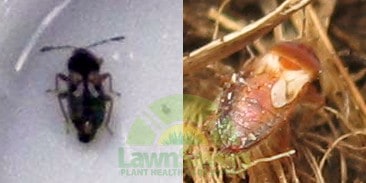 Our technicians are finding adult chinch bugs emerging from thatch as well as their young,  commonly called 'nymphs' in lawns throughout the Greater Toronto Area.  We started finding them earlier in June which is earlier than we normally see them appearing. The hot, dry weather is to blame. Adult chinch bugs emerge in lawns, mate, and lay eggs when the 'bird's foot trefoil' weed is in flower.  The nymphs which cause the most damage will hatch over several weeks, followed by extended feeding periods.
Chinch bugs in your grass are arguably one of the most common insect pests on home lawns.  What the early appearance of adult chinch bugs means for this year's populations isn't clear yet. It is the immature, reddish in colour,  chinch bug nymph that damages lawns, and an early start on adult activity may mean more young are born in your grass. On the other hand, if temperatures and rain return to seasonable levels, the red nymphs may suffer some degree of natural abatement.
Do You Have Chinch Bugs On Your Lawn?
Are you seeing fist-sized brown spots in your lawn? Is most of the damage on the south-facing part of your lawn? Are the damaged spots growing together? This could be a sign that you have cinch bugs on your lawn. Chinch bugs prefer hot, dry, south-facing slopes.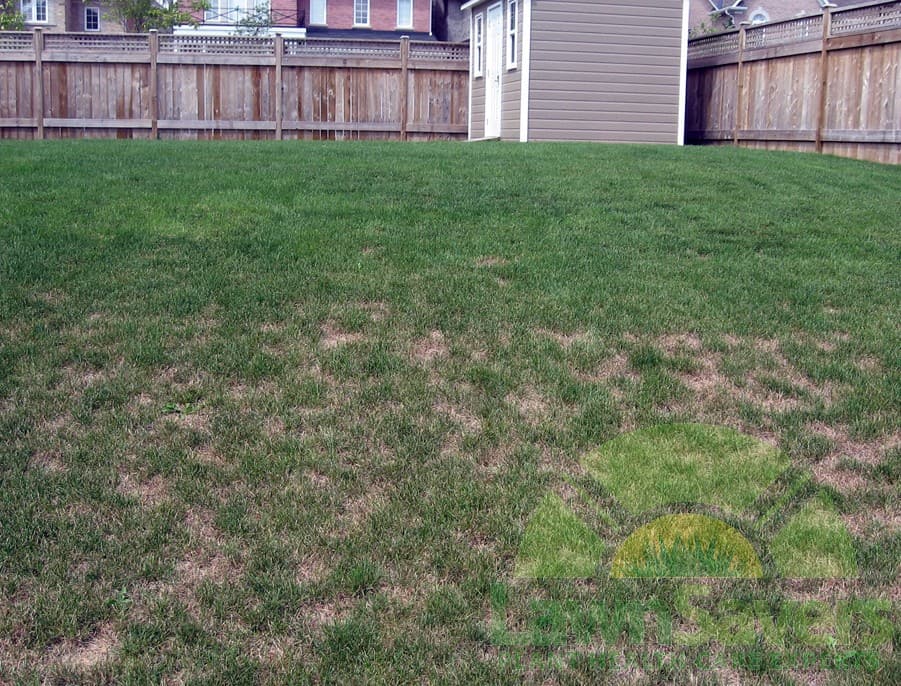 Since we can't predict how heavy chinch bug activity is going to be we count on you to be vigilant – watch your lawn for the signs and let us know when they appear, so that remedial steps can be taken.
Here is a photograph from last year of an infested lawn. This hill faces south, and you can see the characteristic damage of small patches that will eventually meld together. Chinch bugs suck the juices out of the grass blade and inject a venom toxic to the leaf blade, resulting in the death of the grass blade.  Roots are normally unharmed, but will quickly die if the lawn is not well watered.  Watering heavily can help areas that have been affected by chinch bugs in your lawn recover quickly!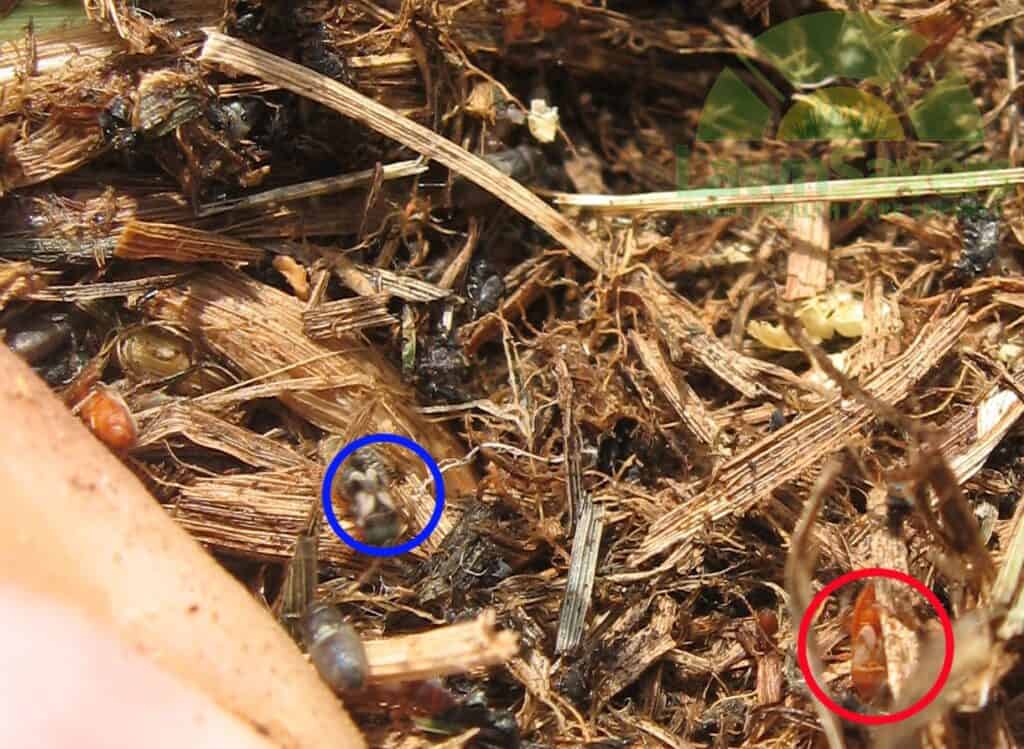 You can also look for the bugs themselves, but chinch bugs are tiny and can scurry through grass quickly. Kyle's thumb dwarfs them in this photo to the right. The blue circle shows an adult, and the red circle shows a grass-damaging nymph, or immature chinch bug. They live right down at the base of the grass, and the only way to find them, really, is to get your nose right down into the grass. They scurry for cover quickly, so watch for movement.
How To Deal With Chinch Bugs In Your Lawn
There is currently no Pesticide allowed under Ontario Provincial law to specifically target chinch bugs. The best thing that homeowners can do to deal with chinch bugs in their lawns is you keep them heavily watered. Reaching out to an experienced lawn care and pest control company can also help. We have tools and advice that can help manage and reduce chinch bug pest problems in your yard.
Your Top-Rated Choice For Chinch Bug In Your Lawn In Ontario
If you are noticing brown tufts, or if you have seen chinch bugs growing in your lawn call Lawnsavers today! We have years of experience and can help restore your yard to the once lush and beautiful green that it once was by helping to reduce the chinch bug population in your grass. Contact us today to make your free estimate appointment. 1-888-503-5296
We also have the ability to assist you with: grubs, gypsy moths, and ticks.
Check out what our clients have to say:
"We thought we had lost our lawn after a chinch bug infestation last August. LawnSavers expertly dealt with it and our lawn is looking better than ever in May. The technicians are incredibly professional and knowledgeable. We appreciate the thorough and informative report we get from the technician after every visit. We would highly recommend LawnSavers."
Fiona Anthes
Rating 5/5 ⭐⭐⭐⭐⭐
And read more of our 200+ reviews on Google.