I am excited to be able to let you know about our brand-new and effective naturally derived weed control product.
Called Fiesta, this new liquid gives us the power to reliably control broadleaf weeds on your lawn, and reduce them to a manageable number as part of our promise to give you a green, healthy lawn you can live on.
Here are some of the results we are already seeing. (this product is a stronger, more concentrated and non-diluted form of the same active ingredient in Scott's Weed-b-gon)
Fiesta was developed as an effective alternative to chemical pesticides to be used in organic lawn care programs and has quickly become the natural, go-to solution for weeds. Health Canada and The Ontario Ministry of Environment approved it for use in May 2010. The active ingredient is iron – a nutrient our bodies need and derived from the natural environment. The iron is chelated (bound to a special carrier molecule) so it is easy to dissolve in water and get into the weed.
Plants need iron too – it's what makes your lawn (and broccoli and spinach) a deep, rich green. Fiesta though, is too much of a good thing. LawnSaver's carefully controlled method of application means only broadleaf weeds are affected. The weed's tissues oxidize and die very quickly, turning the lawn-invading pest dark and dry (sometimes called necrosis). Our technique ensures your grass does not get a dangerous dose, so any residual Fiesta will just add to the colour of your lawn. Plus, since it is a liquid product, you don't have to water it after application to get it to work. We spray, it dries, and you can relax.  It is safe for children and pets to go on the lawn right after it dries.
Kyle also took a shot of a single dandelion, standing arrogantly on its own in the middle of a lawn.
Right now, our technicians are going all-out to get Fiesta applied on our customers lawns, and not just for dandelions. Fiesta gets results on thistle too, and shows promising effects on stubborn creeping weeds like clover and black medic.
Lawns being lawns, we will still see some weeds around, and severely infested lawns will likely take more than one application to get in shape. A healthy lawn requires a proper regimen of professional care including proper fertilizing, core aeration, overseeding and proactive insect management.  This will help a lawn reduce weeds naturally.  But we are proud to say we have the single best weed management available in Ontario – and our customers are enjoying its benefits today.
Update: July 2013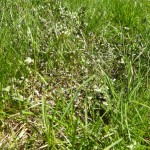 The black medic on this lawn responded really well to Fiesta, but as you can see some of the shoots and leaves are unaffected. The colony has so many separate stems and roots that it is essentially impossible to get them all. It is the same resistance creeping weeds had to the old chemical controls. The treatment has brought the population of black medic down though, which makes managing them with good cultural practices easier.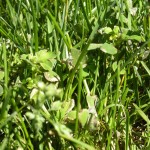 This is another patch on the same lawn.  There is some discolouration, but this patch did not die right away. Because of this stubbornness in creeping weeds, if the lawn has a lot of them it can take more than one application of Fiesta to reduce their number. Our programs will reduce weeds over the year and season after season, but we do offer a special weed reduction treatment available to customers who have heavily infested lawns or lawns with stubborn weeds.
The best results we are seeing are on thistle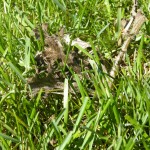 and dandelion.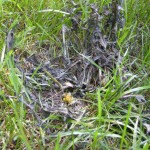 Once Fiesta has gone to work on your weeds, it is important to keep up your good mowing and watering practices to reduce the chance of new weeds growing.